NIKA ARCHERY
Archery Bow Trainer Draw Training Aid Device Strength Stretch Band Exerciser
Regular price
$29.99
Sale price
$35.99
Unit price
per
Product Description: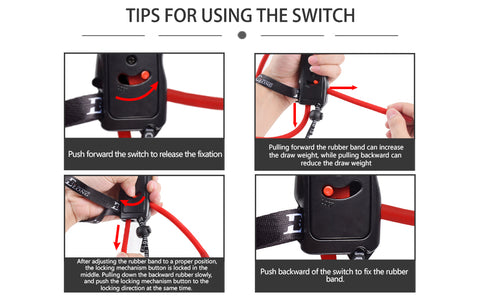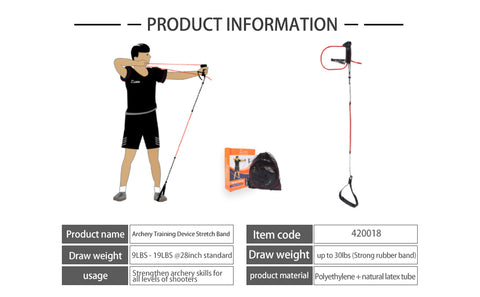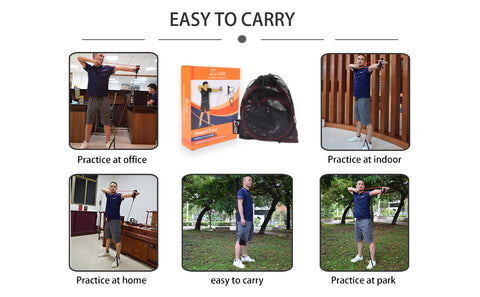 This training simulator is a specific device for archery skill practice. Draw weight: 9LBS - 18LBS @28 Inch
High-grade archers can use it for daily action training, while beginners can use it for fast leaning and master basic shooting gesture. Our Pull Exerciser is a convenient tool that gets you in shape for your next bow hunting trip. With our Archery training resistance bands you will be able to increase your pulling strength, holding stability and shooting stamina.
Suitable for all ages. Composite and elastic pedal can be adjusted freely according to different strength requirement. The Archery Shot Trainer Training Aid allows you to practice shooting anywhere, anytime.
The whole set device satisfies different grades of archers to imitate shooting training. Bows can experience damage if dry fired. Our archery training device lets you practice your shooting skills without firing an arrow. No risk of dry-firing an expensive bow or flinging arrows into the ceiling/walls of their range.
Its grip is designed by emulating shooting essentials. High quality rubber band provides draw weight.
Instructions:
1、Adjust the training device according to usage habit and naturally hold the grip.
2、Adjust the length of wrist sling and the rubber band to a suitable position.
3、The sole step on the pedal and make sure it is same direction with bow.
4、Draw the rubber band usingcorrect gesture and start the practice.
5、After the device and position are in place, observe if the bead of gradienter is in middle and if thelaser light is aiming at target.
6、After shooting in relaxation, please keep your hand holding the equipment and keep the strength to control the arm to be horizontal for 2-5 seconds.
7、Then repeatedly make adjustment and practice.
8、Suggested daily practice 1-2 groups, with 15 times per group.
9、Repeated and high efficiency practice can improve your shooting level and make you more skillful and good score.
10、Package Includes:1 X Archery training simulator
Note:
1. Please do not use the laser light to target at human eyes or objects out of the shooting range, to avoid unnecessary misunderstanding.
2. Suggest wear protective device to avoid the rebounded rubber band touching the skin.
3. This product is only for simulation of shooting practice. It is not allow to install attachment or dangerous substance for other purpose.
4. Please change the ageing and damaged rubber band after long use.
5. Please replace button battery after the laser light is used for a period of time.6.This product has ordinary version and professional version. Ordinary version does not equip laser light.

SHIPPMENT:
Our products will be shipped from different warehouses in China, the United Kingdom, the United States, Germany, and Canada. Different products have different shipping addresses, please select your corresponding shipping address.

1、Shipment from China warehouse
Shipping from China to other countries, the time limit is 7-30 working days.
2、Shipment from  UK warehouse
Shipment from the UK warehouse to the UK, the time limit is 4-7 working days.
3、Shipment from  U.S. warehouse
Shipment from the US warehouse to the US, the time limit is 3-8 working days.
4、Shipment from German warehouse 

 Shipment from the German warehouse to the German local area, the time limit is 2-3 working days.
 Shipment from the German warehouse to other European countries and regions, the time limit is 5-8 working days.
Other European countries and regions include: AT, BE, BG, CY, CZ, ES, FR, GB, GR, HR, HU, IE, IT, LU, MT, NL, PT, RO, SI, SK
5、Shipment from Canadian warehouse
Shipment from the Canadian warehouse to the Canadian local area, the time limit is 4-7 working man-days.

For more information about logistics, please contact us on the page or email, and we will explain in detail for you.
---
Share this Product
---